Welcome to our Oldham Physiotherapy Clinic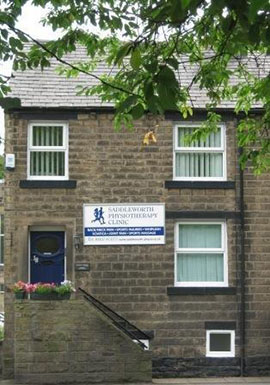 Our Physiotherapy Clinic was established in Uppermill near Oldham, in 1996 and has gained a superb reputation within Oldham and the surrounding areas.
We are located in the centre of Uppermill village, which is just 5 miles from Oldham town centre. We are positioned directly opposite the Museum where there is ample free parking available. The clinic is easily accessible from Greenfield railway station and is on the local bus route from Oldham and surrounding towns.
Our Oldham physiotherapy clinic is led by the Clinical Director Catherine Johnstone, and staffed by three highly accomplished Physiotherapists and two administrators. All of our physio staff have vast post graduate knowledge both in the NHS and private practice enabling them to accurately diagnose and effectively treat all musculoskeletal conditions. We aim to help every patient reach their utmost potential in the least possible time.
We have developed strong working relationships with many GP practices within Oldham, and also with many Orthopaedic Consultants. We are very proud of our superb repute within the Oldham area, and we continually strive to maintain and improve this. In our recent patient questionnaire, 100% of patients would be happy to advocate us to their family and friends.
To book an appointment, or for further information on any of the conditions we treat at our Oldham physio clinic, or the physiotherapy services on offer please give us a call on 01457 871777 or email us at physio@zen.co.uk.